The rumors of high ranking Jemaah Islamiyah (JI) official and former mathematics teacher Noordin Top's death have been greatly exaggerated, DNA testing in Indonesia has confirmed. Instead what officials have is most of the body of a dead florist, which they assure was also a terrorist.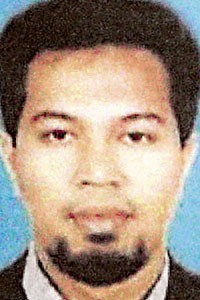 Tests on the nearly headless body police found in the bathroom of a house they attacked last week have revealed that the man they killed was not the highly-sought-after Noordin Top, but rather a florist named Ibrohim. Not to worry though, as police insist the heretofore anonymous Ibrohim moonlighted a planner of terrorism who worked with Top.
With this sorted out, the Indonesian government has resumed its hunt for Top, who has been accused of organizing virtually every high profile terrorist attack in Indonesia in the past several years. Officials are now saying they aren't sure if Top had ever been in the house they raided, which sparked the 17 hour siege they claimed had killed him.
There had been considerable skepticism about the government's claims of having killed Top, as the only evidence they had was a claim by two people arrested in the market that they seen someone who looked like Top in the house at some point. Former militants insisted it was unlikely Top would be left by himself in a hideout.