In a speech today in the restive Swat Valley, Pakistani Prime Minister Yousef Raza Gilani claimed that the extremist elements in the country are divided and will soon be destroyed. He also praised the Swat Valley's three million plus civilians for abandoning their homes during the military's invasion, saying it has "made the task easier for the government." Many of the civilians are still in refugee camps around the city of Peshawar, though the government has recently been allowing them to return home.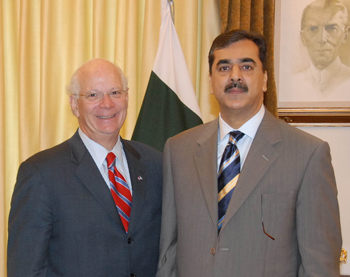 Gilani insisted that the Pakistani state's "existence and sovereignty are above everything" and vowed to use the military in any way necessary to protect them. He added that the military would remain in Swat and the surrounding area until the Swat Valley become "the Switzerland of Pakistan."
In previous years, the Swat Valley had been a popular tourist attraction, a peaceful region which attracted visitors from across the world. Long-standing complaints about government corruption allowed various Islamist groups to gain influence in the valley, however, and the government struggled to repel them.
This culminated in February with a peace agreement between the Pakistani government and the Tehreek-e Nifaz-e Shariat-e Muhammadi (TNSM). Both sides accused one another of reneging on their promises for months, however, and eventually the military was sent in to crush one of the other militant groups, ultimately arresting the TNSM leadership for not embracing the offensive.