The speculation over the final fate (or lack thereof) of Tehreek-e Taliban Pakistan (TTP) leader Baitullah Mehsud was thought to be over on Friday when the Associated Press fielded a call from an apparent aide who confirmed the reclusive leader's death. But nothing is simple in South Waziristan, and Baitullah's status remains unclear.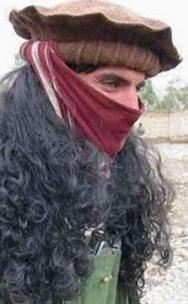 Now, Maulana Noor Said, another aide, says Baitullah had left the site of Wednesday's drone strike, where he was thought to have been killed, but that he was in poor health at the moment. It was also promised that a tape would be issued to confirm that he is still alive within the next day or so. Said added that Baitullah rarely spends more than an hour at a single place, noting that US drones are "continuously flying in the area."
Pakistan's control on the Federally Administered Tribal Areas is nebulous at best, and in many of the more remote portions it is totally non-existant. This has made confirming reports of deaths, or the rumors of faction fights that have followed, nearly impossible. Indeed, it has been common in the region along the Afghan-Pakistan border for people to be declared killed only to re-emerge months later.
The alleged faction fight following Baitullah's alleged death, which itself allegedly killed Wali-ur Rehman and/or Hakimullah Mehsud, was exhaustingly enough also thrown into serious doubt today, when Rehman contacts Reuters to assure that both he and Hakimullah were still alive, and to deny that the two had fought at all.
The Pakistani government is apparently fed up with the confusion and uncertainty, and Interior Minister Rehman Malik has publicly demanded that the TTP release proof that its assorted leaders are alive. It seems unlikely the group will release the data simply because of an official request, however, and the TTP may ultimately decide to keep people guessing over who is alive and who isn't.