Top Iranian officials are scrambling to quiet growing domestic outrage over the abuse of protesters detained during the violent June rallies disputing the presidential election. General Moghaddam, the nation's police chief, has acknowledged that protesters were beaten in Kahrizak prison, and says that overcrowding following the protests led to an outbreak of disease.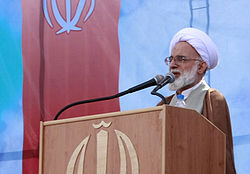 Prosecutor General Ghorban Ali Dorri Najafbadi has called for the prosecution of those officials reponsible for the abuses, saying that detainees were never supposed to be taken to Kahrizak in the first place. He added that the head of the prison and three guards had already been arrested, but also blamed the "carelessness" of other officials for causing the incident in the first place.
Supreme Leader Ayatollah Ali Khamenei ordered the closure of the prison near the end of July following allegations that several detainees had died of torture while in custody. Gen. Moghaddam insists that the deaths were not actually caused by the abuse but by the diseases.
The reports of abuse have further fueled criticism of the government's handling of the protests among clerics and officials as well as the public. Coupled with protests over the trials of some of the detainees, the Iranian government will likely struggle to improve its image domestically and abroad.