A high ranking aide to Tehreek-e Taliban Pakistan (TTP) commander Baitullah Mehsud has confirmed today that the militant leader was slain in a Wednesday air strike, which US officials say was conducted by the CIA.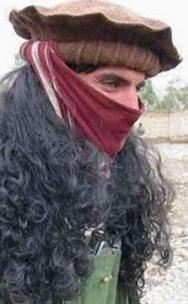 "I confirm that Baitullah Mehsud and his wife died in the American missile attack in South Waziristan," Kafayat Ullah was quoted as telling the Associated Press. US and Pakistani officials had speculated Mehsud may have died in the attack on his father in law's compound, though a spokesmen for Pakistan's ISI agency denied it.
Mehsud had long been a target of the US drone attacks, and the US had offered $5 million for his capture or death. The attempts to kill Mehsud went so far that in June a drone attacked a funeral procession, killing dozens of civilians, in an attempt to assassinate the reclusive leader.
The TTP had been launching ever more bold attacks this year, which Mehsud had said were retaliation for the US drone strikes in Waziristan. He had also threatened to take revenge directly against the US with attacks in Washington. It remains unclear who will replace him as leader of the TTP.