Yesterday's CIA drone strike in the remote South Waziristan village of Zanghra, which it has been confirmed killed Tehreek-e Taliban Pakistan (TTP) leader Baitullah Mehsud's second wife and injured several children may also have killed Mehsud himself, according to an unnamed US official.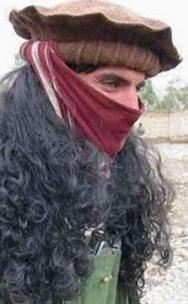 The official conceded there was no physical evidence of Mehsud's killing, but cited unspecified "indicators" that Mehsud, who occasionally visits the village, may have been there at the time of the attack and "there are hopes that it is him."
A spokesman for Pakistan's top spy agency, the Inter-Services Intelligence Agency (ISI) denied previous claims by Interior Minister Rehman Malik that Mehsud was "likely" killed, likewise adding that there was no evidence of Mehsud's death.
The US has tried unsuccessfully to kill Mehsud on several previous occasions, once bombing a funeral procession full of civilians in the hopes that Mehsud would be among them. As it turns out, he had already left at the time. Mehsud has been an outspoken critic of US air strikes in Waziristan, and has threatened retaliatory attacks in response to them.