A Georgian teenager was injured today in an explosion along the South Ossetian border, which Georgia's Interior Ministry said was the result of fire from South Ossetia. South Ossetia denied the accusation, and claimed rather that shells were launched from that village, landing in a nearby South Ossetian village.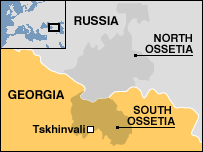 A spokesman for the European Union monitoring mission in the region said there was "no indication that Georgians have fired across the South Ossetian" boundary, adding "there were also no indications that mortar fire landed" on the Georgian side of the border.
The accusations were just the latest in a growing string of accusations, including claims just days ago that Georgia fired on a Russian observation post and a claim that Russian troops snuck into a Georgian village to move the border. Monitors likewise were unable to confirm either of these, but the growing tensions have led to the Russian military being placed on high alert.
The turmoil is rising just days before the one year anniversary of the brief 2008 war between Georgia and Russia, which led to South Ossetia's formal declaration of independence, though this has not been recognized by Georgia. Tensions between Georgia and Russia have lingered ever since, but seem to be reaching a post war high in the past few days.