In his first public appearance since replacing Jaap de Hoop Scheffer as Secretary General of NATO, former Danish PM Anders Rasmussen called for a "strategic partnership" with Russia, whom he said the alliance shared several common interests with.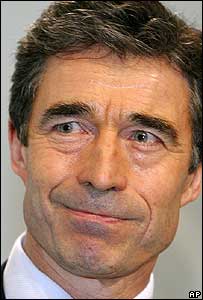 Rasmussen also said NATO should encourage Afghans to take responsibility for security in "most of their country," though he added that the alliance was prepared to continue the war and support the nation "for as long as it takes."
He did however say that he hoped the NATO force in Kosovo, which has been there for over a decade, should continue to be scaled back, and might at some point be out of the region entirely. Scheffer had previously vowed that NATO troops would remain in Kosovo.
Rasmussen's accession to the post had been long supported by Western members of NATO, but his strained relationship with Turkey, whom he helped block from joining the EU, made for a somewhat more rancorous process to replace Scheffer than has generally been seen.