Last week, Afghan President Hamid Karzai declined to attend a televised presidential debate, prompting opponents to accuse him of taking the campaign lightly. Today, Karzai is campaigning publicly in Kabul, his first public appearances in what has been over a month and a half of opposition rallying.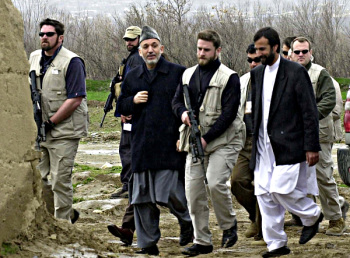 Facing dozens of seemingly irrelevant opponents, Karzai seemed contented to coast to reelection. His own indifference to the campaign may have been his downfall, however, as it has allowed rivals Abdullah Abdullah and Ashraf Ghani to establish themselves as legitimate opposition candidates.
Unfortunately, with no reliable nationwide polling in Afghanistan, it is difficult to say exactly where the candidates stand. The opposition are already positioning themselves to accuse Karzai of fraud if he wins, but even forcing a run-off would likely be a major victory for his opponents.
Karzai is in a difficult position, facing criticism from opponents for his close ties to the US and international forces while at the same time those forces seem eager to cut him loose. He has promised if reelected to seek regulation of the foreign troops, but his ability to do so is in serious doubt.