Nigerian troops killed over 100 people today in the nation's restive north while attempting to wipe out a militant group. The troops shelled a mosque in Maiduguri and sparked a clash with fleeing militants armed with bows and arrows and machetes. Police say most of the slain were members of the banned Boko Haram group.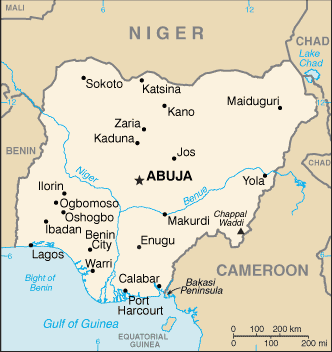 Though rights groups say the troops killed bystanders and other civilians in the raid, government forces deny the charge, saying it would've been impossible for the groups to tell the difference between civilians and Boko Haram members.
The group has been blamed for a long string of violence, and its leader Mohammed Yusuf, arrested earlier in the day, was killed by police while in custody. The police provided no details other than that he died in custody, but state governor's spokesman Usman Ciroma guessed that the cleric was "shot while he was trying to escape."
The Boko Haram group, also known as the Nigerian Taliban, is a militant Islamist group that openly shuns western education as "un-Islamic" and Yusuf, himself a highly educated academic, had publicly attacked the notion that the Earth is round. The Nigerian police started moving against the group earlier this month, amid claims it was arming itself. The use of bows and arrows in today's clash likely harms that case, however.