For those hoping that promises by the Obama Administration of an eventual Iraq drawdown and this week's announcement that active duty personnel in the Army would increase by 22,000 would improve the deployment schedule of reservists, Army Reserve Commander Lieutenant General Jack Stultz has a message: don't get your hopes up.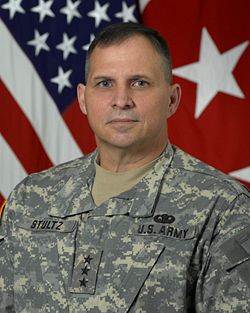 "I want to be more realistic with them. I don't predict a drop in our op-tempo," Lt. Gen. Stultz said in an interview published today in Stars and Stripes. He said the goal was for the average reservist to spend four years home for each year deployed overseas, but reaching that goal "could take five years."
The comments were a follow-up on comments in March, in which Lt. Gen. Stultz said that as "enablers," the requirements for reservists in Iraq wouldn't necessarily come down even when combat troops started to decrease.
It should hardly come as a surprise following last week's announcement by the Pentagon that its active duty troop rotations for Iraq War would maintain the current level of 131,000 troops through at least early 2010. Even if a drawdown would eventually ease the burden on the reserve, one simply isn't forthcoming.
Indeed, with the number of troops in Iraq staying largely flat through the rest of the year, the reservists are expected to bear an even heavier burden as the Obama Administration continues its escalation in Afghanistan. What was intended to be a part-time military auxiliary is, in a era of permanent war, forced into growing amounts of service in dangerous warzones.