A US drone fired missiles at a house in North Waziristan today, killing five occupants and wounding four others. The victims of the attack were apparently members of the local Taliban faction, though it does not appear that any of them were high ranking officials in that faction.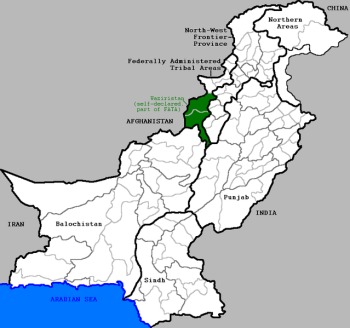 Intelligence sources said the militants inside were associated with the Tehreek-e Taliban Pakistan leader Baitullah Mehsud, and that at least some of them may have fled from the Pakistani military's offensive in South Waziristan. The house was said to be destroyed in the attack.
The US drones have been regularly targeting South Waziristan in recent weeks, but this appears to be the first time since May that they have attacked North Waziristan. The attacks have been publicly criticized by Pakistan's civilian government, though they reportedly have privately endorsed them.
But the Pakistani military, fearing that they would be incapable of fighting so many tribesmen, has been trying in recent weeks to calm tensions in North Waziristan, even as they press the offensive in the neighboring south.