A US drone fired two missiles at a suspected militant compound in South Waziristan today, killing at least eight and wounding an unknown number of others. The attack was the latest in a string of US strikes on the restive Pakistani agency which have killed over 100 in the past seven days.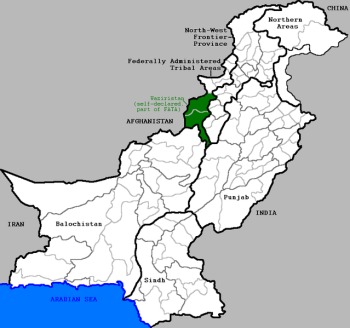 US attacks into Pakistani territory had temporarily stalled after an attack on a funeral procession in late June killed 80, including dozens of innocent civilians. The attack was roundly condemned by the Pakistani government, which feared the massive toll would undercut support for the Pakistani military's offensive in the tribal area.
The two-week calm ended last Friday when a drone killed 17. On Tuesday another attack killed 16 more, and then on Wednesday multiple attacks killed at least 60 others. The eight killed today bring the confirmed toll up to 101.
The Pakistani government is reported to have significant influence over the targets selected by the US in the strikes, though Pakistan's civilian government has fervently denied that it has anything to do with the unpopular attacks. The Obama Administration has dramatically increased the rate and severity of attacks since taking office.