Last Updated 7/8/09 6:45 PM EST
US Predator drones launched a pair of missile attacks at two targets in South Waziristan today, killing at least 60 and wounding an unknown number of others. The attacks are the second and third in less than 24 hours, and the fourth in less than a week.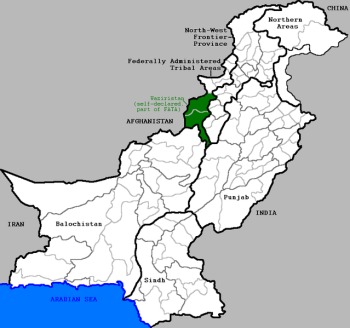 In the first attack, drones fired six missiles at a mountaintop training camp, killing 10. Later more drones fired missiles at several vehicles 12 miles east, killing at least 50.
Yesterday, the drones had attacked another compound, killing at least 16 and wounding around 30 others. On Friday, another strike killed 17. So far there are no reports that any high profile militants have been killed in any of the strikes.
Though the Obama Administration has dramatically ratcheted up the rate and severity of the strikes since President Obama's inauguration, the level has risen even further in recent weeks. The latest escalation seems to be coinciding with the Pakistani military's offensive in South Waziristan, though it is unclear what role, if any, the Pakistani government had in the selection of the most recent targets.