Top US commander in Iraq General Ray Odierno predicted that troop levels should drop to 120,000 by the end of the year. The number is largely in keeping with previous predictions of the pullout through January continuing at a snail's pace. He also conceded that the projections could change and that he wouldn't make a final decision on those cuts until sometime in September or October.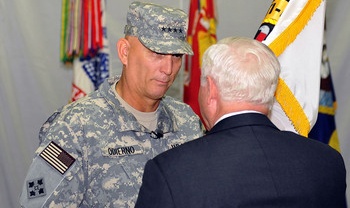 As of today, the troop levels stand at 131,000, still slightly above the pre-surge levels that Odierno's predecessor Gen. Petraeus predicted we would see in Summer of 2008. The numbers have scarcely changed from the beginning of March, when the military said there were around 135,000 troops there.
With troop levels dropping at a rate of roughly 1,000-2,000 per month, the projections through the rest of the year seem difficult though entirely possible. However the plan the Obama Administration also presented to lawmakers in February to have troop levels down to 50,000 in August of 2010, a level he said would remain "indefinitely."
The August 2010 number, already a far cry from his campaign promise to have all troops out within 16 months of taking office, will now require the military to increase its rate of withdrawal next year nearly tenfold. Nothing from Obama's first several months in office suggests any inclination to withdraw troops at this rate, leaving this pledge, like so many others, in serious doubt.
Troop Levels:
—–
July 2006 – 127,000
September 2006 – 140,000
September 2007 – 168,000
September 2008 – 146,000
March 2009 – 135,000
July 2009 – 131,000
September 2009 (projection) – 123,000
January 2010 (projection) – 120,000
May 2010 (Obama campaign pledge) – 0
August 2010 (Obama post-inauguration pledge) – 50,000