During today's weekly press briefing, spokesman Abdul Basit of Pakistan's Foreign Office expressed "concern" over Tuesday's US drone strike against a funeral procession, cautioning that the government's position is that "these drone attacks are counterproductive and have more disadvantages than the advantages."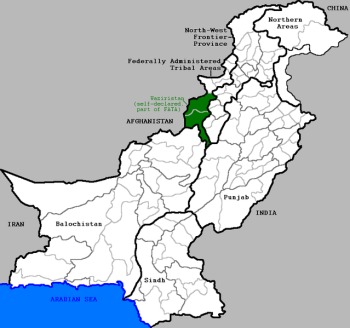 Tuesday's strike reportedly was aimed at Tehreek-e Taliban Pakistan leader Baitullah Mehsud, though he was not present at the time of the attack. The strike killed at least 80 people however, and sources involved in the rescue say that at least 35 of those slain were civilians. No militant commanders were reported killed in the strike, the deadliest single US attack on Pakistani soil.
Pakistani Prime Minister Yousef Raza Gilani also criticized the attack, saying the incessant US strikes were undermining the nation's attempts at isolating the TTP leadership from the various tribes in the effected area.
US officials have seemingly gone out of their way not to comment on the killings, but Senate approval for a massive increase in foreign aid to Pakistan will likely provide further impetus for the Pakistani government to keep its discontent from turning into action to prevent such strikes in the future.