As the 1.5 million residents of the Gaza Strip struggle to rebuild their society with mud in the face of a crippling official blockade by the Israeli government, hundreds of Israeli protesters arrived at the border today to block what little humanitarian aid the government deigns to allow in, forcing the military to close the crossings entirely for much of the day.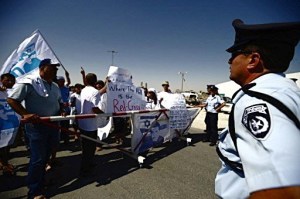 The protesters are demanding the release of Israeli soldier Gilad Shalit, who has been held by the Hamas government for three years. Despite progress in the negotiation for his release, the demonstrators have demanded that no aid be allowed into the tiny strip as an effort to win international sympathy for his plight.
"There is no other way but collective punishment," one of the demonstrators declared, but in the face of 1.5 million civilians living in the bombed out remains of their society in the wake of January's Israeli invasion being deprived of humanitarian aid, it seems unfathomable that the international focus will be on a soldier being held to trade for some of the thousands of Gazans held in Israeli detention.
Of the 73 trucks expected to cart humanitarian aid into the strip, only seven were allowed in. In the face of growing opposition to letting food and fuel into the enclave, several Israeli companies have reportedly announced that they will no longer transport goods into Gaza until Shalit is released.