Pakistani jets and artillery and pounding sites all across its over 1,500 mile long border with Afghanistan, as President Asif Ali Zardari vowed that the nation will make "any sacrifice" to defeat the assorted militants and tribal groups that have provided a growing threat to the government's control over the region.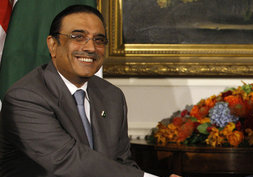 At least 46 Taliban have been reported killed across the nation, with much of the violence in the Federally Administered Tribal Areas (FATA), though clashes have endured in the Swat Valley as well. The Bajaur Agency, which the government declared victory in months ago, saw the highest toll, as at least 27 were killed there.
South Waziristan also saw several killed, as the military's formal offensive against Tehreek-e Taliban Pakistan (TTP) leader Baitullah Mehsud has escalated. It is expected that the offensive will be even larger than the ongoing one in and around the Swat Valley, where the military has driven millions of civilians from their homes in an attempt to destroy the relatively small TTP presence there.
Despite the enormity of the conflict, Prime Minister Yousef Raza Gilani has promised to see every single terrorist on Pakistani soil "eliminated," cautioning the insurgents to lay down their arms or "face dire consequences."