While the Pakistani military has been engaged in clashes in the area for over a week now, they announced that the attacks today amounted to "the formal launch of an offensive against Baitullah," referring to Tehreek-e Taliban Pakistan (TTP) leader Baitullah Mehsud.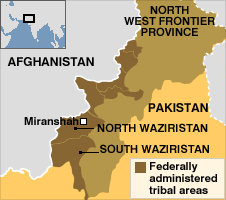 Military warplanes pounded suspected hideouts of the TTP, and attacked at least three religious schools in South Waziristan, where the group is based. Gunbattles between TTP and government forces were also reported, though it was unclear how large the death toll up to this point is.
The planned offensive has been in the offing for over a month, and Pakistan has been adding troops to the region for weeks. In addition to the TTP, the military intends to attack the Mehsud tribesmen, one of the biggest tribes in the region. A large percentage of the tribesmen in rural areas have reportedly fled.
The offensive is expected to be at least as large as the devestating attack against the Swat Valley, which has driven millions of civilians from their homes. The Swat offensive is still ongoing, despite repeated claims from the government over the past several weeks that it was within days of being completed.