Despite the massive unrest across Iran in the wake of Friday's election, President Mahmoud Ahmadinejad arrived in Russia today for summit meetings. Though his opponent Mir-Hossein Mousavi has contested the results, Ahmadinejad appeared to be accepted as Iran's president without any serious opposition.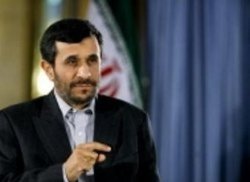 During the summit meeting of the Shanghai Cooperation Organization Ahmadinejad declared the end of the "age of empires," adding that America had effectively been bankrupted by its assorted wars and "is overwhelmed by economic and political crises."
Russian officials declined to comment on the situation in Iran, calling it an "internal affair of the Iranian people," and Ahmadinejad seemed careful not to mention the violent rallies he left behind, or the disputed election that sparked them.