Moderate Sunni cleric Sarfraz Ahmed Naeemi, an outspoken critic of suicide attacks, was killed today in Lahore when a suicide bomber attacked his mosque. The attack, which killed four others, appeared to target the cleric, as his room was destroyed in the blast.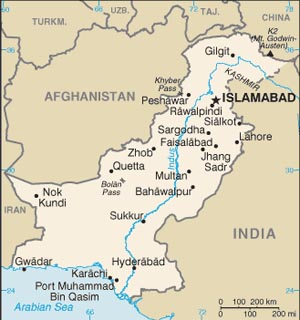 Religious scholar Mufti Muneebur Rehman praised Naaemi as a man of courage after the assassination, and said his work would continue unabated. He urged Naaemi's students and followers to display patience, and said public gatherings would be held tomorrow to commemorate the slain cleric.
The Tehreek-e Taliban Pakistan (TTP) took credit for the attack, in addition to an attack on another mosque in Nowshera and the bombing of a luxury hotel in Peshawar earlier this week. The TTP spokesman said the attack was in retaliation for yesterday's attack in Hangu.
In that attack, the military shelled a seminary linked to the TTP, killing a religious leader and 13 others. Several civilians, including a six year old girl, were killed in the attack. The military defended the attack, claiming the seminary was being used to house miscreants.