It was 10 years ago today (June 12, 1999) that NATO's Kosovo Force (KFOR) entered the region under a United Nations mandate authorizing an international military presence. NATO Secretary General Jaap de Hoop Scheffer has announced that the force will be somewhat reduced (from 14,000 to 10,000), but it doesn't seem like the force will be withdrawn any time soon.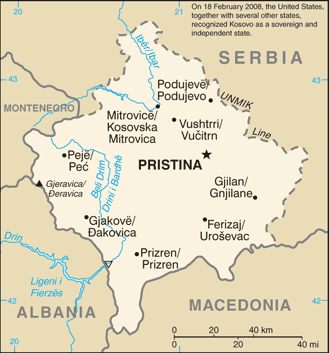 "KFOR will remain in Kosovo, it will remain responsible for a safe and secure environment … as long as necessary," Scheffer insisted. Yet since it has been years since the region has seen serious violence, it remains unclear how long the force, composed principally of US and Western European powers, will see fit to declare its presence "necessary."
The force's initial mission was to place the region under the administration of the United Nations, but transferred most control over a provisional government years ago. In 2008, Kosovo declared its independence from Serbia, though Serbia is still seeking international court determinations on whether that secession is legal.