Faced with near daily atrocities and regular shelling of civilian areas, the United Nations refugee agency is reporting that over 100,000 Somali civilians have been forced from their homes since May.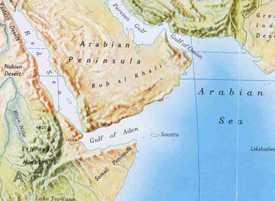 "It's a critical humanitarian situation with regular atrocities being committed," UNHCR spokesman William Spindler reported, expressing concerns about a population "that has already endured several decades of war.
Somalia has seen enormous fighting in recent weeks, with hundreds of civilians killed as insurgents vie for control over the nation with what the Western-backed "government." The bloodiest clashes have been in the capital of Mogadishu, while fighting has also continued in several towns in the center of the nation.
Somalia's current self-proclaimed government has been attempting to secure control over the nation since 2005, when it was booted from upscale hotels in neighboring Kenya for failure to pay its bills. A US-backed Somali invasion a year later finally gave them a measure of control, but also fueled an Islamist insurgency which has become a growing threat since Ethiopia's military declared victory and quietly fled the nation. The insurgency has made it unlikely the nation will return to the relatively stable anarchy pre-2005, and now it faces the very real prospect of a Taliban-style autocracy.