With the war in Afghanistan continuing to worsen, the number of roadside bombings is soaring. NATO spokesman Brig. Gen. Richard Blanchette says the bombs, the primary killer of troops in the nation, are up 80 percent over the previous year.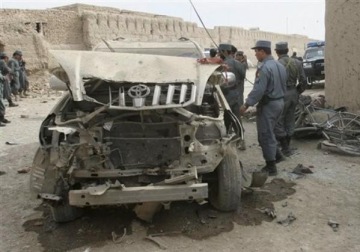 Blanchette says the bombings are being used "as a last measure" because the militants know they can't confront the growing number of international troops directly. However in many cases the explosives are used as the start of an ambush. Today, three US troops were killed in Kapisa Province when an improvised explosive device (IED) hit their convoy and they came under small arms fire.
NATO commanders are expecting that the planned surge of US troops in the nation will lead to an even further jump in violence – already up from its record levels in 2008. The US is also planning to dramatically increase the size of the Afghan army, and the United Nations is hoping for a "flood of drugs" to harm the militants' ability to profit off the opium industry.