Last Updated 6/3/09 9:22 PM EST
The Organization of American States (OAS) has today agreed to officially reverse its 1962 decision to expel Cuba from the group. The US was reportedly pressing for them to require democratic reforms and improve respect for human rights as a precondition, but appears to have failed to net any specific preconditions.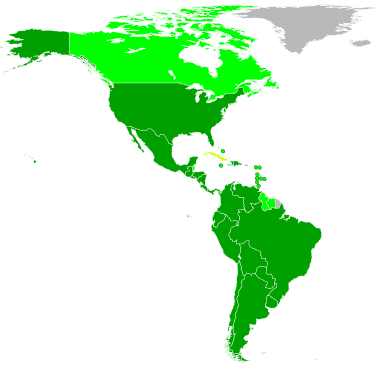 Despite that, Secretary of State Hillary Clinton insisted that Cuba's return would not be "automatic," citing the text of the readmission which requires Cuba to comply with "the practices, aims and principles of the OAS."
Cuba was one of the founding OAS members in 1948, but amid pressure from the US was expelled in 1962. The decision declared that "Marxism-Leninism is incompatible with the inter-American system and the alignment of such a government with the communist bloc breaks the unity and solidarity of the hemisphere."
The Obama Administrastion has seen some improvement in US-Cuba relations, reversing in part a policy seen by many as a Cold War-era anachronism. The US is at present the only country in the Western Hemisphere without normal relations with the nation.