A fire was set today at the Zahedan branch of the Mehr Financial and Credit Institute, killing at least five employees as journalists reported dozens rampaging through poor sections of the troubled city. Iranian security forces have reportedly restored control to the city after the latest attack, the third in less than a week.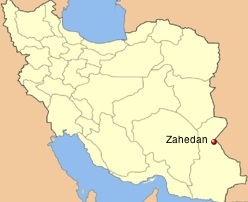 On Thursday, a suicide bombing at a Shi'ite mosque in the city killed 30 and wounded scores of others. Jundallah has taken credit for the attack, though Iran has also said they had evidence the group responsible had ties to Afghanistan.
The following day, a group of gunmen attacked a campaign office of President Mahmoud Ahmadinejad, wounding three people and causing considerable damage. Officials have pointed to the upcoming election as a reason for the attacks.
In response to the growing violence just a few miles from the border, the Iranian government has reportedly partially sealed the border into Pakistani Balochistan. Pakistani officials say only foot traffic is being allowed through, though the Iranian government reportedly let through several trucks carrying aid to refugees in Pakistan.