At least 31 were killed in a pair of clashes in South Waziristan Agency today. 25 members of the Tehreek-e Taliban Pakistan (TTP) and between six and 13 members of the Pakistani security forces were killed and dozens of others were reportedly wounded in the battles, the latest in a growing series of military clashes ahead of a planned military offensive.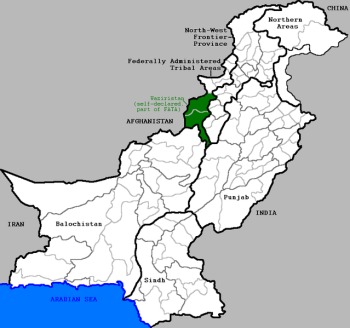 Pakistani military spokesman Major General Athar Abbas insisted that both battles were started by the militants and that the soldiers were only defending themselves. A number of clashes between the TTP and the government has been growing in recent days.
The militants are reportedly angry at the military build-up in Mehsud tribal areas. The area, along the Afghan border, is home to TTP leader Baitullah Mehsud and its residents have faced the bulk of US drone strikes.
Many civilians have been fleeing the area in recent weeks, amid reports that the area will be the next target for a Pakistani military offensive. This month's offensive in the Swat Valley drove millions from their homes and into government camps, and those with relatives outside of South Waziristan are hoping to get out before the same thing happens to them.