The Pakistani military lauded its troops today, saying they had killed 80 militants and reclaimed the small Swat Valley town of Sultanwas, just the latest battleground in the massive military offensive against the restive area.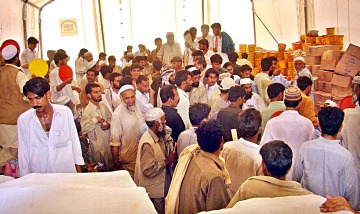 Sultanwas has little strategic value, but its successful recapture was significant as it was the first town captured by the Tehreek-e Taliban Pakistan (TTP) at the start of the fighting. At the time of its capture, both the TTP and the Pakistani government claimed they were respecting the ceasefire despite the heavy fighting. At this point, the ceasefire is long forgotten.
Major General Athar Abbas also said the military had continued the offensive on the town of Matta, where they reportedly encountered "stiff resistance." The offensive began days ago, and was noteworthy for an incident in which military helicopters attacked and killed several fleeing civilians.
But even as the military manages to slowly but surely gain land in the soon to be expanded offensive, the government continues to struggle to manage the 1.5 million additional civilians the operation has displaced. The conditions in the government-run camps have been described as deplorable, though some privately run camps have emerged in which far better conditions are reported.
Last 5 posts by Jason Ditz