Pakistani troops have killed at least 26 militants in a surprising attack on the Lower Dir district of the Northwest Frontier Province (NWFP). Two members of the paramilitary Frontier Corps were also killed, and civilian tolls were not immediately available.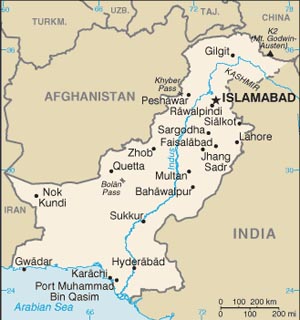 The attack came as a surprise because the Pakistani government ostensibly has a peace deal with the militants in the Malakand Region, of which Lower Dir is a part. Though there had been some tension in recent days in the Buner district, Lower Dir, on the other side of the valley, had been seemingly quiet before the raid.
The district is, on the other hand, the home district of Sufi Muhammad, the cleric that was the driving force behind the peace deal. A spokesman for Muhammad's TNSM proclaimed the attack a violation of the pact. For his part, President Asif Ali Zardari insists that despite the attack and subsequent fighting, the peace deal remains intact.
Officials say the attack was necessary to "root out the militants," and Interior Minister Rehman Malik demanded that they disarm. However officials had confirmed only the day before that the United States has ordered them to act against the militants across the Swat Valley, or they would. It seems unlikely that the two events are not related.