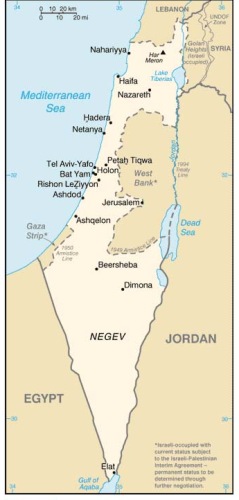 Israeli Foreign Minister Avigdor Lieberman today rejected the 2002 peace initiative proposed by the Arab League, calling it a "dangerous and a tested formula for the destruction of Israel." The deal has been at the center of attempts to negotiate a settlement with Israel, and US envoy George Mitchell says it will be part of the Obama Administration's official policy.
The deal offers to normalize relations between Israel and the Arab world in return for the nation withdrawing from the territories occupied since 1967 and a "just settlement" for Palestinian refugees. Though the Israeli government has expressed reservations about the deal in the past, this appears to be the first time a high-ranking Israeli official has formally rejected the deal while currently in office.
Though many have expressed their objections to allowing a single Palestinian refugee to ever return to Israel, Lieberman has also been an outspoken opponent of any peace negotiations, and has flatly rejected the notion of "land for peace." It seems then that the peace deal will have few friends in the current Israeli administration.
The public rejection of the deal shortly after Mitchell's visit is yet another sign of the growing rift between the Obama and Netanyahu governments, something which the US president has been preparing Congress for for weeks.