The spokesman for the government of Catalonia has ruled out any move to renounce last week's declaration of independence, saying that their answer will be no different on Thursday, the latest in a series of "deadlines" imposed by Spain to abandon the declaration.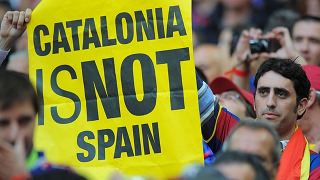 "Giving in forms no part of this government's scenarios," Catalan spokesman Jordi Turull added. Spanish Prime Minister Mariano Rajoy has threatened to seize the entire Catalonia region outright over the declaration, and place it under direct rule.
Catalonia has a long history of autonomy, and in addition to threatening to revoke that, Spanish officials have threatened to charge a number of top Catalan regional official with "sedition" or other charges related to supporting secession.
Catalan President Carles Puigdemont signed the declaration of independence, despite threat of arrest, but immediately suspended the declaration. He has since said that the plan for the next two months is to try to negotiate with Spain, though Spanish officials have ruled out any talks unless Catalonia scraps the plan.
Demonstrators have continued to rally in Barcelona in favor of independence, and those rallies were out in force again today after the latest detention of secessionists.
Last 5 posts by Jason Ditz