According to Israeli parliament speaker Yuli Edelstein, the White House quickly rejected a proposal that President Trump would deliver a speech at parliament during his official visit last week, over fear that Trump would be "heckled" by Israeli MPs.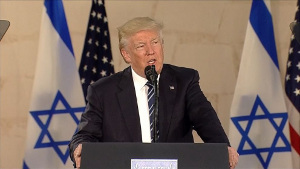 Israel's parliamentary debates often boil down to shouting back and forth, and usually end with demands to ban the Arab MPs for disloyalty. That raucous nature, however, was apparently a deterrent to Trump giving a speech, since there was no way to guarantee he wouldn't be interrupted.
He almost certainly would have, with several members of the far-right ruling coalition openly upset at Trump's calls for restarting peace talks with the Palestinians, and the Justice Minister expressing fury that the US government's "map of Israel" provided with Trump's visit didn't give Israel all of the occupied territories.
Some US presidents have addressed parliament during visits to Israel, but Trump appears to be followed the trend of President Obama, who likewise declined the proposal and gave his speech at a university. Trump gave his speech at the museum across the street.