Though the initial thought was that the Syrian military's successful operation against the ancient city of Palmyra, wresting it from ISIS, would be the last major push until after the peace talks, reports are emerging that, with the talks crumbling the Syrian military, and backing Russian artillery, are shifting to the nation's northwest.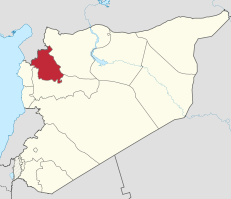 The military is shifting in great measure into the Latakia Province, a sign that they are likely looking to the neighboring Idlib Province, currently held by al-Qaeda, as their next focus for an offensive in the coming days.
There are other signs as well. Just yesterday, Syrian warplanes pounded the Idlib Province, killing over 50 people, including some civilians, in a pair of towns in Idlib's territory closest to Latakia Province.
Though the rebels have objected to the offensive as a "violation" to the ceasefire, al-Qaeda's Nusra Front is not a party to the ceasefire to begin with, and the intention was always to allow all sides to continue attacking al-Qaeda and ISIS during the ceasefire.