The Israeli Embassy has condemned as "baseless" reports floating around the media over the past week that President Obama's upcoming visit to Israel, the first of his presidency, would be cancelled if Israel did not have a government in place ahead of time.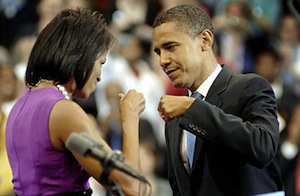 The White House appeared to confirm this as well, with Press Secretary Jay Carney saying there have been "no scheduling changes" and adding that "the president is looking forward to, very much, his trip to Israel."
A trip that will keep peace negotiations with the Palestinians carefully out of the picture, with sources continuing to confirm that President Obama will not bring anything resembling a "general framework" for peace to the meeting, but that he might cross that bridge in another 6-12 months.
Its not clear what he does intend to talk about, however. Initial speculation was that there would be a lot of talk about attacking Iran, but Obama made comments today with Jewish leaders reiterating that he supports diplomacy.
Last 5 posts by Jason Ditz