British Prime Minister David Cameron cancelled his high-profile Amsterdam speech, officially, because of the hostage crisis in Algeria. Privately, officials say the move came because President Obama called him just hours ahead of time to browbeat him further on Britain's future in the EU.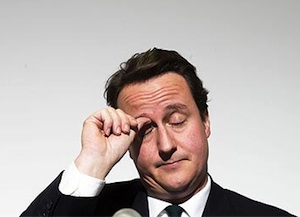 Cameron, who has been pushing for reform in the EU, was planning to warn that Britain was "drifting toward the exit" on the EU question and would continue to do so unless reforms were enacted.
Obama, however, called to reiterate that the US believes keeping Britain in the European Union is vital to world security and that they consider UK withdrawal for any reason unacceptable.
British officials initially sought to downplay the issue, saying Obama had only called to talk about the hostages. White House officials however were eager to go public with the warning, which US officials have repeatedly, publicly issued to Britain in recent days.
Last 5 posts by Jason Ditz