US Africa Command (AFRICOM) said in a press release last week that it launched an airstrike in Somalia on August 15.
According to the command, the strike was conducted in support of the US-backed Mogadishu-based government, whose forces were engaged with al-Shabaab fighters on the ground. The strike was launched about 150 miles northeast of Mogadishu.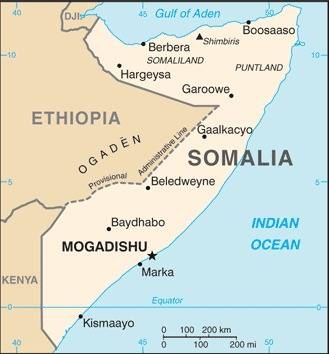 AFRICOM claimed that its "initial assessment" found five al-Shabaab fighters were killed and no civilians were harmed. But the Pentagon is notorious for undercounting civilian casualties, especially in Somalia, where its operations are shrouded in secrecy.
The incident marks the first airstrike reported by AFRICOM in Somalia since July 20. US airstrikes in Somalia escalated toward the end of 2022 as the US-backed government launched a ground offensive against al-Shabaab.
The US military hypes the threat of al-Shabaab due to its size and al-Qaeda affiliation, but it's widely believed the group does not have ambitions outside of Somalia. 
In its press release, AFRICOM described al-Shabaab as "the largest and most kinetically active al-Qaeda network in the world and has proved both its will and capability to attack partner and US forces and threaten US security interests."
Al-Shabaab was born out of a US-backed Ethiopian invasion in 2006 that toppled the Islamic Courts Union, a coalition of Muslim groups who briefly held power in Mogadishu after ousting CIA-backed warlords.
Al-Shabaab was the radical offshoot of the Islamic Courts Union. The group's first recorded attack was in 2007, and it wasn't until 2012 that al-Shabaab pledged loyalty to al-Qaeda after years of fighting the US and its proxies.