US Africa Command (AFRICOM) announced that it launched an airstrike in Somalia on June 1, marking the second US bombing in the country within a week and the third since May 20.
AFRICOM said the strike was launched about 37 miles southwest of Kismayo, a port city in southern Somalia. The command claimed the strike killed three al-Shabaab fighters and that its "initial assessment" found no civilians were harmed, but the Pentagon is notorious for undercounting civilian casualties.
The last US airstrike was launched on May 26 and came after al-Shabaab attacked an African Union base housing Ugandan troops. Uganda said on Saturday that 54 of its soldiers were killed in the attack. The US said its airstrike destroyed military equipment that al-Shabaab took from the base.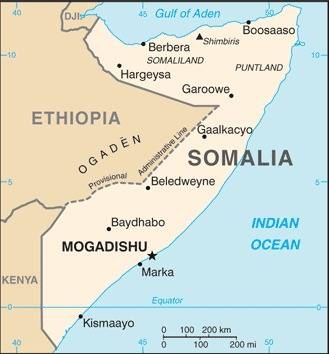 AFRICOM said that the US strike on May 20 wounded one al-Shabaab member. The May 20 airstrike marked the first known US bombing in the country claimed by AFRICOM since February 21.
US airstrikes in Somalia escalated toward the end of 2022 and at the beginning of 2023 as the US-backed Mogadishu-based government launched an offensive against al-Shabaab. The US has also stepped up military aid and training of the Somali government's military.
In May 2022, President Biden ordered the deployment of up to 500 troops to Somalia. When Congress recently debated a resolution introduced by Matt Gaetz (R-FL) to withdraw from Somalia, House members said there were 900 US troops in the country. Gaetz's resolution failed in a vote of 102-321.