US Africa Command (AFRICOM) said in a press release that it launched an airstrike against al-Shabaab in Somalia after the group attacked Ugandan forces stationed in the country as part of the African Union's mission, known as ATMIS.
The al-Shabaab attack was launched on Friday and targeted an army base in Bulo Marer, a town about 75 miles southwest of the Somali capital Mogadishu. The assault started with suicide car bombings, followed by an intense firefight.
Al-Shabaab claimed it killed 137 soldiers in the attack, but the number is not confirmed. Uganda's President Yoweri Museveni acknowledged there were casualties but did not say how many were killed or wounded.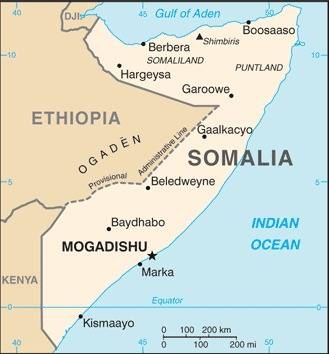 AFRICOM said it launched an airstrike on May 26 near the base in support of ATMIS. It said the strike "destroyed weapons and equipment unlawfully taken by al-Shabaab fighters" and claimed its "initial assessment is that no civilians were injured or killed."
The strike was the second reported by AFRICOM in Somalia this month. The command said it launched an airstrike on May 20 in Jilib, a city about 240 miles southwest of Mogadishu.
AFRICOM said the May 20 strike wounded one al-Shabaab member and claimed no civilians were harmed. However, the Pentagon is notorious for undercounting or lying about civilian casualties, and US military operations in Somalia are shrouded in secrecy.
The May 20 bombing was the first airstrike AFRICOM reported in Somalia since February 21. US airstrikes in Somalia escalated toward the end of 2022 and the beginning of this year as the US-backed Mogadishu-based government launched an offensive against al-Shabaab.