US Africa Command (AFRICOM) has announced that its forces launched an airstrike against al-Shabaab in Somalia on Tuesday, marking the third known US strike in the country this month and the sixth of the year.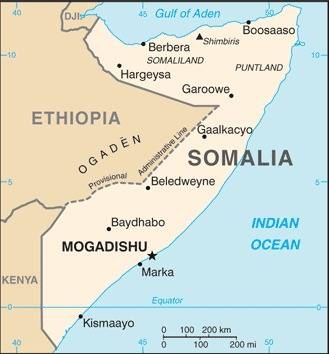 AFRICOM said the strike was launched at the request of the Mogadishu-based government. The command said it targeted al-Shabaab fighters who were about 316 miles northeast of Mogadishu near Galmudug, a state in central Somalia.
The command said its "initial assessment" found that seven al-Shabaab fighters were killed in the strike. AFRICOM claims that no civilians were hurt due to the remote location of the operation, but the Pentagon is notorious for undercounting civilian casualties in Somalia.
Besides the six airstrikes launched in Somalia this year, the US also carried out a raid against an ISIS leader in the country in January, killing him and 10 of his "associates." US operations in the country have increased since President Biden ordered the deployment of up to 500 troops to the country in May 2022.
The US-backed government in Somalia has been engaged in heavy fighting with al-Shabaab on the ground since launching an offensive several months ago. Al-Shabaab has also stepped up its attacks, making 2022 the deadliest year for Somali civilians since 2017, according to the UN.
The US military portrays al-Shabaab as a major threat due to its size and affiliation with al-Qaeda, but it's widely believed the group is not a global threat. Al-Shabaab was born out of a US-backed Ethiopian invasion of Somalia that was launched in 2006, and the group didn't declare loyalty to al-Qaeda until 2012, after years of fighting the US and its proxies.