According to a report from Politico, the Biden administration is preparing new sanctions that target the Nord Stream 2, a natural gas pipeline project that will run from Russia to Germany. The Biden administration is under pressure from Congress to stop the project, which is about 90 percent complete but has slowed down in recent years due to threats and sanctions from the US.
The report didn't say what exactly the sanctions would target. "We are continuing to look at entities that may be involved in sanctionable activities and will take necessary follow-on steps from there," an administration official told Politico. Earlier reports said President Biden is expected to avoid sanctioning German entities. The administration clearly has no issues with escalating tensions with Moscow, as it recently slapped sanctions on Russian officials over the jailing of opposition figure Alexei Navalny.
The Biden administration is required by law to submit a report to Congress of entities involved in the project that will then be targeted with sanctions. Senator Ted Cruz (R-TX) co-authored an amendment in the 2021 National Defense Authorization Act (NDAA) that requires Nord Stream 2 sanctions and has been delaying Biden nominees from being confirmed over the issue.
"If the Biden administration dithers, if they defy the law, they will have turned a major foreign policy victory for America into a major foreign policy loss and a gift of billions of dollars in perpetuity to Vladimir Putin," Cruz said, according to Politico.
"I told Secretary Blinken, I would be thrilled to lift the holds on the State Department nominees today if they would only follow the law and issue an interim report identifying all of the companies subject to mandatory sanctions," Cruz added.
The original Nord Stream consists of two lines that run from Vyborg, Russia, to Lubmin, Germany, near Greifswald. The new project would add two more lines, doubling the amount of natural gas Russia could export to Germany.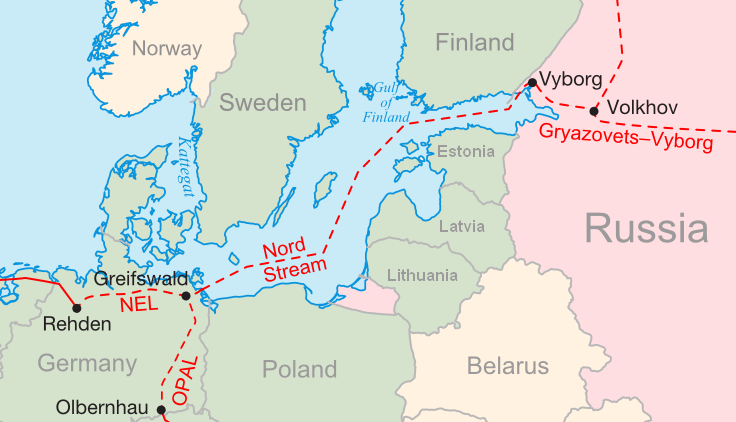 Somehow, the US framed Russia's desire to trade more with Germany as a threat to Europe's security. An unnamed administration official told Politico that Biden views the pipeline "as a clear example of Russia's aggressive action in the region."
One reason the US opposes the pipeline is due to the billions of dollars Ukraine would lose in gas transport fees if the project was completed. In 2017, Ukraine's state-owned gas company Naftogaz hired a lobbying firm to fight the pipeline in Washington.