Heavy clashes continued on Monday between Azerbaijan and Armenia in the disputed Nagorno-Karabakh region despite a second attempt at a humanitarian ceasefire. Both sides accused the other of launching fresh attacks.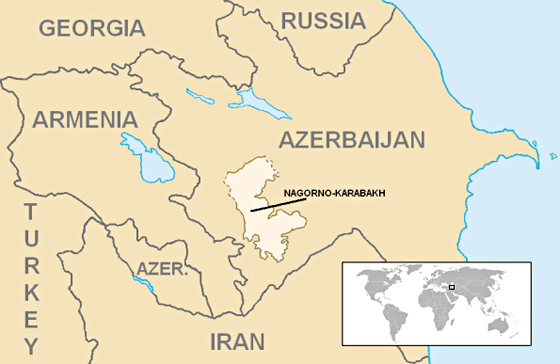 Nagorno-Karabakh reported another 19 military casualties, bringing the total number of servicemen killed from the ethnic Armenian enclave to 729 since the fighting started on September 27th. Thirty-six ethnic Armenian civilians have been reported killed in the conflict.
Azerbaijan does not disclose its military casualties. As of Saturday, Baku reported 60 Azeri civilians killed in the battle.
On Saturday, Armenia and Azerbaijan agreed to try another humanitarian ceasefire that broke down within hours. The truce was modeled on one agreed to the week before in Moscow. The pause in fighting was meant to exchange prisoners and the bodies of those killed in the fighting.
Saturday's truce was announced after Russian Foreign Minister Sergey Lavrov spoke with his Armenian and Azeri counterparts by phone. Lavrov said the continued fighting was "unacceptable" and called on the warring sides to "immediately stop ratcheting up confrontational rhetoric."
The foreign ministers of Armenia and Azerbaijan are both expected to be in Washington on Friday, although it is not clear if the two sides will meet. According to Politico, the envoys are scheduled to meet with Secretary of State Mike Pompeo separately.
The current round of fighting is the heaviest Nagorno-Karabakh has seen since the early 1990s when tens of thousands were killed in a war sparked by the collapse of the Soviet Union.