Armenia and Turkey remain far apart over issues concerning Nagorno-Karabakh, as fighting in the disputed enclave continues despite a recent Russian-brokered ceasefire.
On Tuesday, Turkish Foreign Minister Mevlut Cavusoglu said the international demands for a ceasefire were reasonable but said they must include a call for Armenian forces to withdraw from Azerbaijan.
Nagorno-Karabakh is an ethnic Armenian enclave within the internationally recognized border of Azerbaijan. The enclave has acted as a de facto independent state with the support of Yerevan since a ceasefire was agreed to in 1994, after years of heavy fighting killed tens of thousands of people.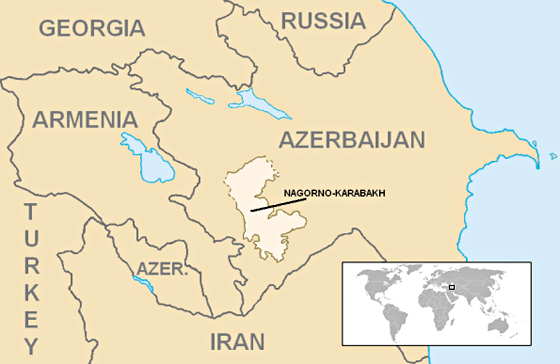 Turkey threw its support behind Baku as soon as the clashes broke out on September 27th and has been outspoken in its belief that Armenia must end its "occupation" of Azerbaijan. Armenia also controls areas to the west of Nagorno-Karabakh that are technically within Azerbaijan's borders.
Armenian Prime Minister Nikol Pashinyan said on Tuesday that a change in Turkey's stance is the only thing that could push Azerbaijan to stop its military action. "I'm convinced that for as long as Turkey's position remains unchanged, Azerbaijan will not stop fighting," he said.
Azerbaijan said it was in favor of the ceasefire agreed to in Moscow last week and accused Armenia of breaching it, a charge Yerevan denies.
Pashinyan accused Turkey of having an "expansionist" foreign policy, citing Ankara's activity in Syria, Libya, and the Mediterranean, where Turkey is engaged in a maritime dispute with Greece. The Armenian leader has accused Turkey of driving the conflict throughout the weeks of clashes.
Besides the rhetoric, Turkey has also been accused of supporting Azerbaijan militarily. France and other countries have claimed Turkey is sending fighters from northern Syrian to help Baku in Nagorno-Karabakh, and credible reports have backed up these accusations.
So far, over 600 people have been reported killed in the fighting, including dozens of civilians on both sides.