A day after Iran's parliament censured President Hassan Rouhani, Iran's Supreme Leader Ayatollah Ali Khamenei published a statement on his website clarifying his own position on the matter.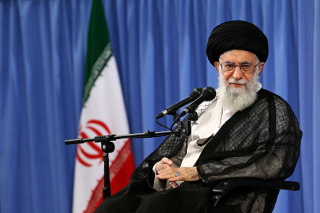 Khamenei said there was nothing wrong with Rouhani trying to pursue diplomacy, and keeping in contact with the European Union, but said Rouhani is pinning too much hope on the idea of Europeans saving the nuclear deal or Iran's economy.
Khamenei has warned Iran should withdraw from the nuclear deal if it no longer serves the national interests, which some Iranians are questioning since the US withdrew from the pact. Khamenei says the EU needs to safeguard trade and guarantee Iran access to the international oil market.
At the same time, Khamenei appeared to call on the parliament to back off on Rouhani, with his comments calling for unity against US sanctions, and saying that continuing to play up differences would only cause more problems.