With Afghanistan still reeling from heavy fighting in the strategically important city of Ghazni, the Interior Ministry is trying to shift blame for the government's clear unreadiness to tackle such a large scale attack.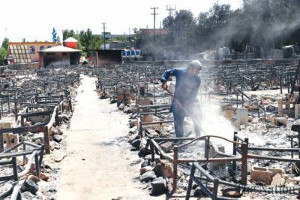 As is so often the case, blame is falling squarely on Pakistan, as Interior Ministry officials claimed that the Pakistani military establishment not only planned the attack, but provided the Taliban all the equipment used.
Officials made a point of putting the military on "high alert" in the city, facing a likely a Taliban push. The Taliban, however, launched a coordinated attack using forces from the surrounding area, and quickly overran the defenses. Afghan reinforcements ultimately retook the city.
Blaming Pakistan has been a go-to government response since the 2001 US invasion. In practice the Taliban has been making consistent gains against Afghan government forces for years. There is no reason to think they'd need external intervention to mount such an attack.