One day after speeches were released by Syrian al-Qaeda leader al-Golani and ISIS leader Abu Bakr al-Baghdadi, a new video speech was issued by al-Qaeda's main leader, Ayman al-Zawahiri. This is the first speech from Zawahri since April of last year.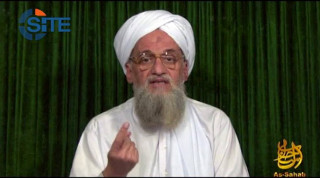 Zawahiri's speech was broadly similar to that April speech, once again urging followers and other jihadists to unify against their enemies. The April speech called for unity particularly inside Syria, while this year's version called for unity worldwide.
The recent flurry of speeches is coming out because the important Muslim holiday of Eid al-Adha was this week. This is an important religious holiday, and often used as a time for jihadist clerics to try to enhance their standing.
The calls for unity echo similar calls from al-Golani, while Baghdadi's speech mostly called on his supporters to carry out attacks, and to overthrow the Jordanian government. Baghdadi's calls for violence are not unusual, though clearly al-Qaeda figures believe calls for unity will better attract their followers.