Sen. Chris  Murphy's (D-CT) amendment to withdraw all funding for the US involvement in the war in Yemen was blocked by Senate leadership on Wednesday, preventing it from getting a vote for inclusion in the 2019 Defense Appropriations Act.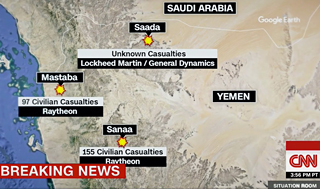 There was language aiming to limit US involvement in Yemen in the 2019 NDAA, but President Trump's signing statement indicated that he doesn't intend to comply with that. This meant using control over the funding, through the appropriations act, was the next real chance to require compliance.
The Murphy Amendment said largely the same thing that the language in the NDAA said, except with the added threat of revoking funding. It seeks for the administration to certify that any US involvement complies with international law. President Trump objected to offering such a report to Congress.
Senate leaders complaining they felt that the appropriations act was too important to pass to allow it to be cluttered by amendments that limit where the war funding included in it goes. This means, barring another bid for a War Powers Act challenge, the unauthorized US involvement in the war will continue.