Taliban forces ambushed a convoy of three buses traveling through the Kunduz Province in northern Afghanistan on Monday, kidnapping in excess of 190 people on board. The kidnapped people were described as overwhelmingly civilians, but included at least some Afghan soldiers.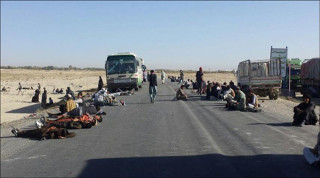 Afghan officials reported that the government has already managed to free 149 of the people, including a number of women and children. They estimate another 21 people are being held, with the Taliban trying to single out government employees and military forces.
The Taliban says they had intelligence which suggested a substantial number of security forces were using the buses to travel to Kabul. That was the buses' destination, though most of the passengers were headed there to visit family for Eid al-Adha.
In addition to the released hostages, the Taliban also freed at least 40 troops who had surrendered to them last week in an offensive against a military base in Faryab Province. The Taliban overran the base in a couple of days, as reinforcements were unavailable.