Elaborating on Thursday night's announcement by the Pentagon that the military parade has been "postponed," President Trump announced Friday that he personally cancelled the plan, and that it was local politicians in Washington D.C. who were to blame.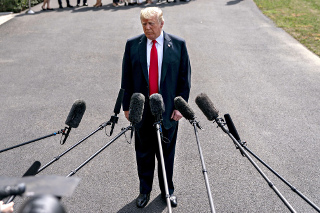 "When asked to give us a price for holding a great celebratory military parade, they wanted a number so ridiculously high that I cancelled it," Trump insisted, adding that next year he expects the costs to go way down, and in the meantime he'll "buy some more jet fighters." $92 million could buy a fraction of an F-35 warplane.
Trump provided no specifics on the local costs, but estimates on the overall parade cost went from $12 million to $92 million. D.C. Mayor Muriel Bowser said that the parade would cost the city $21.6 million, and that traditionally the federal government reimburses a large share of costs for such events.
Other city officials say they were given too little time to plan for the needs of the parade, and had only been approached by the OMB on Tuesday to talk about the costs of the parade. This was a quick turnaround, apparently, because within 48 hours the Pentagon was frantically backing away from the idea.
Defense Secretary James Mattis, however, rejected media reports on the $92 million estimate, saying there was never any cost estimate at all, and claiming it was a made up figure.
The November parade was supposed to go from the Capitol to the White House, passing by the Trump International Hotel en route. The parade would include a large number of warplanes and other "symbols of American power."