A suicide bomber attacked an education center in a Shi'ite district of the Afghan capital city of Kabul, killing at least 48 students and wounding 67 others. The students were teenagers, preparing for university entrance exams at the time of the attack.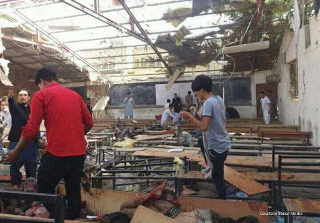 There has been no claim of responsibility, but locals suggested ISIS was behind it, as the group often goes after the Shi'ite community. The Taliban issued a statement denying any involvement in the attack.
Officials believe there was only a single attacker, the bomber himself. The detonation of the bomb sparked gunfire from some nearby guard posts, but officials say they don't believe the guards were shooting at any attackers, and that there's no sign there was anyone else involved.
Locals say that many of the wounded are in serious condition, and are unlikely to survive. The students present were some of the top students in the area, who were eligible for extra tuition if they passed the exams.