A pair of five-story residential buildings collapsed Sunday in northern Syria's Idlib Province, after the rebel arms depot in the basement exploded. At least 39 civilians were killed in the incident,including a number of children.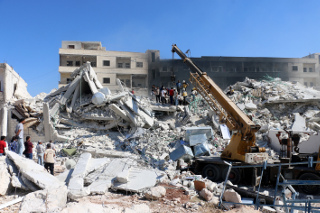 Details are still emerging on exactly what caused the explosion, but early reports suggest an accident. The explosion tore the facade off the buildings it was beneath, doing disastrous amounts of damage. Aid workers are still pulling bodies from the wreckage, and the toll could thus rise further.
The explosion took place in the village of Sarmada, along the border with Turkey. The location of such a large depot so close to Turkey suggests that the rebels may have been smuggling weapons in through that area.
Idlib is expected to be the center of a major battle in the months to come, as it is effectively the last major rebel-held territory in Syria, and the Assad government has said that, failing any negotiated deal, they will reunify the country by force.
Last 5 posts by Jason Ditz